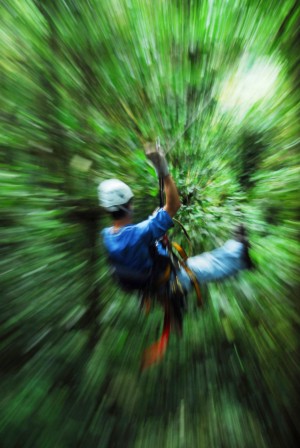 Hocking Hills is the home of Ohio's first zipline adventure attraction. Visitors can spend 3 tempting gravity while gliding along the Hocking Hills Canopy Tours attraction. USA Today ranked the Hocking Hills Canopy Tours as a hot new attraction in Ohio. Visitors to the Canopy Tour Adventures can explore the treetops during a trip above caves and rock cliffs. While some may consider a zipline ride only slightly more exciting than Cedar Point's Jr. Gemini roller coaster others find a zipline ride the thrill of a life time.

The Hocking Hills Canopy Tours opened in the fall of 2008 and has been growing in popularity since the first zipliner donned a safety harness. Zipliners are suspended on a network of cables, getting a bird's eye view of the Hocking River, native wildlife, plants, and rocks.

Until Ohio's newest zipline, Ozone Zipline Adventure in Warren County, opened earlier this year the Hocking Hills Canopy Tours was the only zipline in Ohio. Go and enjoy the fun!

The Hocking Peaks Adventure Park zip line site is easy to find. It is located on State Route 674 just a couple of miles past the Visitors Center.

New in 2012 is Valley Zipline Tours. Valley Zipline Tours is located in near the entrance of the beautiful Hocking Hills near Sugar Grove. Their goal is to bring that beauty and history to you in a way that is not only fun and exciting, but also educational. Their farm has been involved in conservation and education since 2009. They are looking forward to showing off the land on the newest addition the Valley Zipline Tours. We have poured our heart and soul into building what is now the largest course in Ohio.

New in 2013 is Soaring Cliffs. Soaring Cliffs offers a zip line experience unlike any other in the Hocking Hills. The lines are set over a natural gorge complete with sandstone rock formations, wildlife, and a seasonal waterfall. Soaring Cliffs is a member of ACCT (Association for Challenge Course Technology) and the Ohio Zip Line Association. Through the Ohio Zip Line Association, Soaring Cliffs is working with the Department of Agriculture Amusement Ride Division to help set the standards of construction and maintenance for zip line courses throughout the State of Ohio.

Hocking Hills Canopy Tours
10714 Jackson St.
Rockbridge, Oh 43149
(740) 385-9477
10 zip lines covering 3200+ft.
Hocking Peaks Adventure Park
15103 SR 664 South
Logan, Oh 43138
(740) 592-2500
16 zip lines covering 3400+ft.

Valley Zipline Tours
3465 Duffy Road
Lancaster, Ohio 43130
(740) 654-3392
11 zip lines covering 5500+ft.

Soaring Cliffs
24719 Miller Road
Rockbridge, Ohio 43130
(855)-ZIP4Fun
5 zip lines from 200-500 feet in length


There are numerous other great activities in the Hocking Hills region to do also. These activities as well as lodging for an extended stay can be found at HockingHills.com.

Brief Tour Overview from Hocking Hills Canopy Tours:
Fast, fun, and exhilarating, this 3 hour spectacular adventure offers nature lovers and thrill seekers alike, ages 10 and up, the unique opportunity to zip through the treetops on a network of cables and adventure skybridges suspended high above the forest floor, overlooking a cave, rock cliffs, the Hocking River, and other nature flora.

Brief Overview from Hocking Peaks Adventure Park:
Hocking Peaks Adventure Park offers the most exhilarating Zip-line challenge experience in the area! We have the largest (18) zip-line course in Ohio, as well as 60 aerial challenges not found anywhere else. Hocking Peaks is the place to be! Looking for something more family-oriented? Hocking Peaks also has a family zip-line and challenge course! Only a few feet off the ground, this course offers families with kids ages 2+ with an adventure not found anywhere else!

Brief Overview from Valley Zipline Tours:
VAOne of the longest zip line courses in the midwest. We are located just a short drive from Columbus. Our tour features 11 zip lines including 3 monster zips spanning over 1000 across our main valley. In addition to the monster zips you will race "the dual", a side by side flight across yet another valley, measuring over 550 feet.

Brief Overview from Soaring Peaks:
The lines are set over a natural gorge complete with sandstone rock formations, wildlife, and a seasonal waterfall. Because all launch and landing sites are at ground level, guests have the opportunity to explore the caves and additional waterfalls along the course trails or simply sit and take in the breathtaking scenery while waiting for their turn at each zip location.

Brief Overview from Ozone Zipline Adventures:
Riders will suit up and fly on ziplines breezing through and above the canopy of the Little Miami River valley. Two tour guides will escort each group of up to 8 participants from platform to platform. We offer 3 hour and 4 1/2 hour tours that will also have you traversing sky bridges, and zipping to and from a 45 foot tall multi-level central zip tower.